The HUB is a gallery with a variety of interactive areas to trigger your imagination and let your creativity run loose. Create artwork, build, design and explore a collection of interactives with your family and friends in this fun, energetic activity space.
Please note: Activity materials and supplies will be individually packaged for families visiting the museum. We are also providing styluses for the gallery's touch-screen activities. Additionally, some activities have individual baskets with materials for your family to enjoy in specific exhibition spaces!
We ask you to return the art supplies at the end of your visit, as you exit through the museum atrium. Please take home the art you create in the material bags provided.
Reuse and recycle materials to "make" individual artwork or projects inspired by "green artists'" whose works are on display. Sponsored by Mesa Recycles, a part of the City of Mesa Department of Environmental Management and Sustainability.
See and learn about art that challenges your eyes. PLUS, don't miss a photo op on a special rug that makes it look like you are stepping into a sinking hole.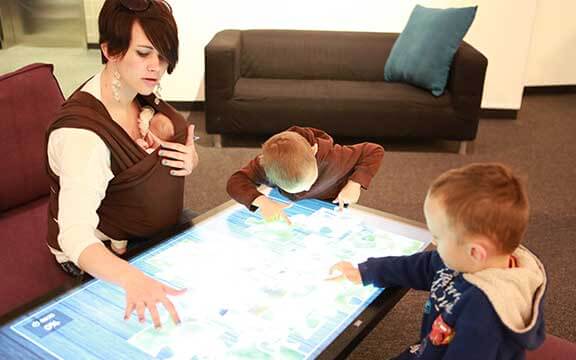 Play a variety of interactive games and activities on a light-and-motion enhanced touch table.
Step into the booth and share a 1-minute story! Share as many of your adventures as you like.
Address
i.d.e.a. Museum
150 W. Pepper Place
Mesa, AZ 85201
Admission
Admission: $9/person
Free for members and those under age 1
New Hours
As of  Oct. 31, 2020
10 a.m. - 4 p.m.
Thursday - Saturday
12 p.m. - 4 p.m.
Sunday
Closed
Monday - Wednesday and most holidays