Volunteer at the i.d.e.a. Museum!
Want to make a difference in the community by helping to develop and expand a child's knowledge and appreciation of art? The i.d.e.a. Museum is looking for volunteer support for its ongoing programs and special events.
Volunteer Benefits
A firsthand look at our exhibitions before they open
i.d.e.a. Shop discounts
Invitations to annual recognition events
New friends
Professional experience and references
Volunteer Opportunities
Gallery Attendant – Perform a variety of activities that facilitate children's art workshops, classes, and special events. Gallery Attendants also interact with families and school groups and encourage museum visitors to explore.
Tour Guide – Lead fun and educational guided tours for school groups. In depth training of the exhibition topics and tour techniques will be provided.
Administration Volunteer – Provide clerical support to the i.d.e.a. administrative staff.
Exhibition Design Volunteer – Work in a fabrication setting with exhibition staff in the preparation and disassembling of exhibitions. Prior experience is required.
Marketing and PR Volunteer – Work with our marketing director on capturing great photography, developing print and video stories and creating social media posts.
Special Events Volunteer – Assist i.d.e.a. staff with special events throughout the year, including events at the museum and off-site outreach events.
Internship Opportunities
Internships are available to current students and recent graduates. Internship areas include early childhood education, exhibit design, evaluation, and marketing/PR.
To inquire about current openings, contact Ana Bentancur by phone at 480.644.4783 or email at ana.bentancur@mesaaz.gov.
How To Become A Volunteer
Attending a volunteer orientation is the first step toward becoming an i.d.e.a. Museum volunteer. We offer orientations for teen and adult volunteers.
Teen Volunteers
The i.d.e.a. Museum welcomes middle- and high-school volunteers, ages 14 and up. Get started by signing up for a Teen Volunteer Orientation & Training, where you take a tour of the exhibition galleries and learn about volunteer opportunities. You'll also review volunteer expectations, guidelines for engaging with the public, and other helpful information. After this session, teen volunteers are ready to schedule their first volunteer shift.
Join us for an upcoming Teen Volunteer Orientation & Training!
Contact Ana Bentancur with any questions about the Teen Volunteer program at 480.644.4783 or ana.bentancur@mesaaz.gov.
Adult Volunteers
i.d.e.a. Museum also welcomes adult volunteers with varied backgrounds and experience levels to get involved with educational programs as well as behind-the-scenes work with various museum departments. All volunteers 18 and older must pass a background check prior to starting. Those interested in volunteering should contact the appropriate volunteer coordinator to schedule an interview and tour of the museum.
All Volunteers
Create a volunteer account here.
You will use this volunteer account to log your service hours each time you volunteer.
Let's make a difference!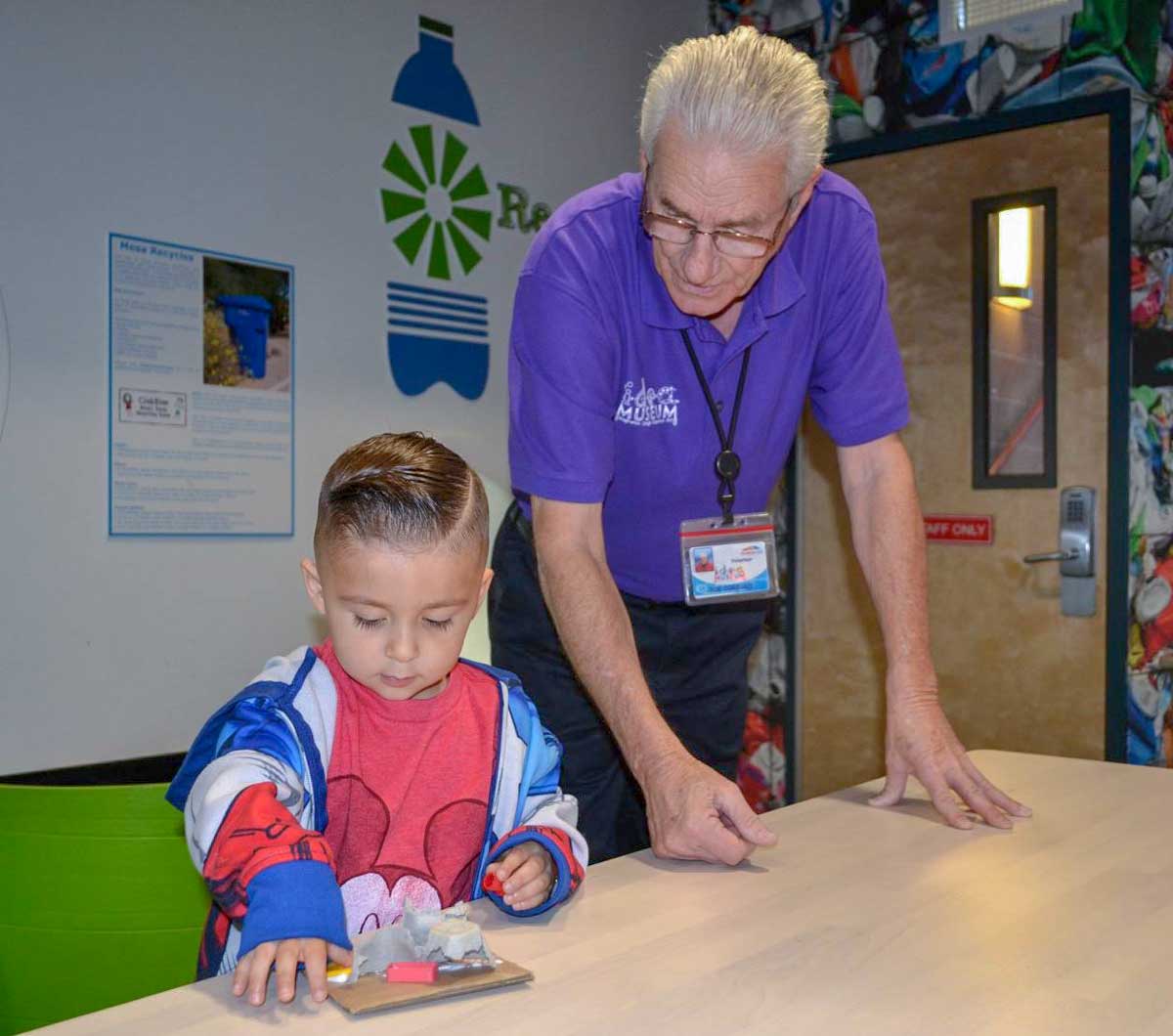 A retired police officer, Joe Corsaro has been volunteering here at the museum for five years. In addition to serving as a regular volunteer, Joe is also a current member of the museum's daVinci Society. He says giving back to the City of Mesa is important to him.
 "I chose the i.d.e.a. Museum because my wife and I used to bring our grandchildren here. It makes me feel like a child again. I enjoy seeing the children playing and interacting with their families. Time spent with your children is the best time you'll ever spend in your whole life."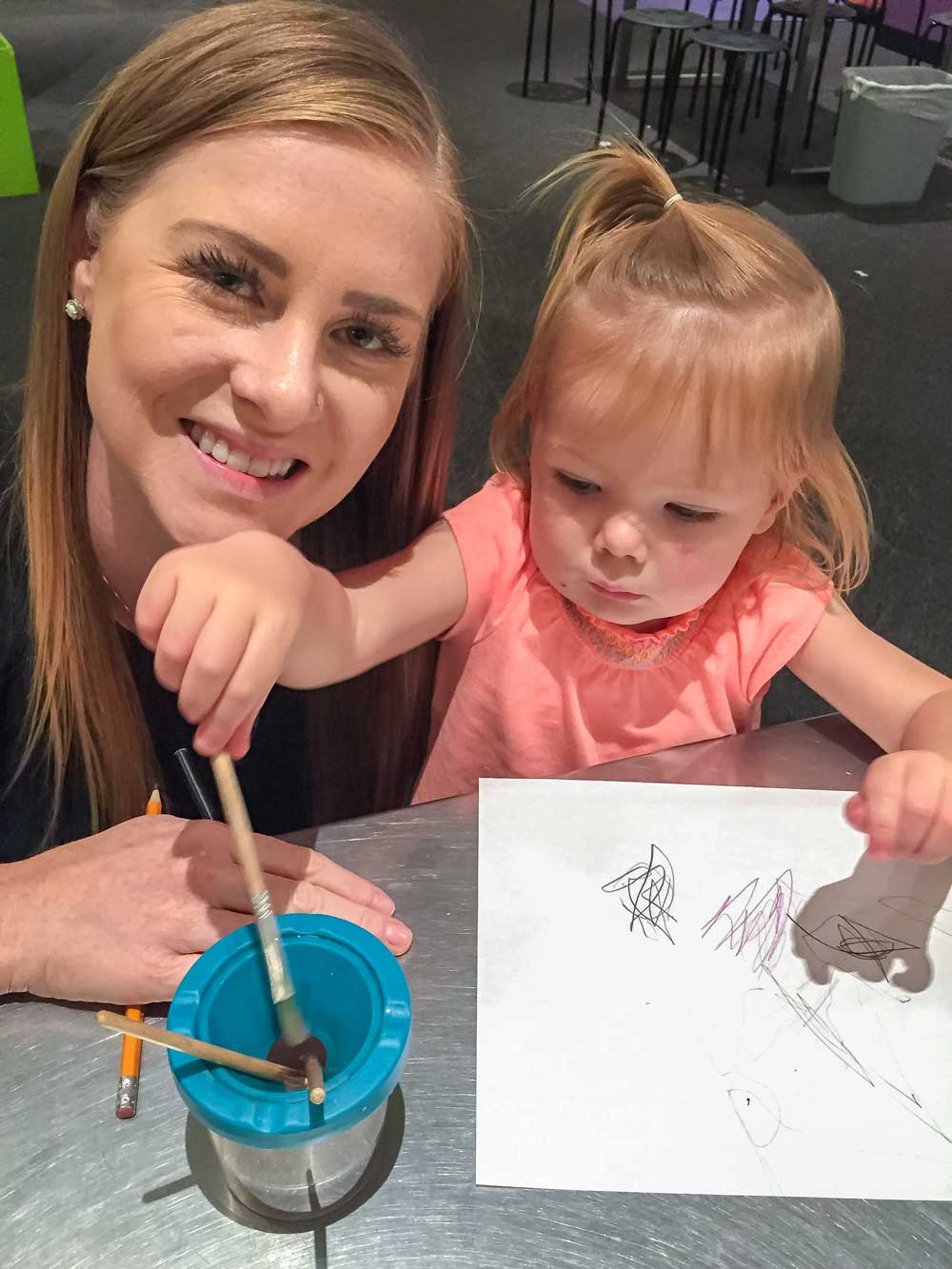 Erica has been connected to the i.d.e.a. Museum for five years. As the Events Manager for Downtown Mesa Association, she regularly partners with the museum to bring events to downtown Mesa, encouraging families to explore activities in the community.
Erica is currently a volunteer museum board member and feels her contributions are really about bringing people together.
"I'm a connector of people. Being able to help with membership and getting more people here to the i.d.e.a. Museum excites me!"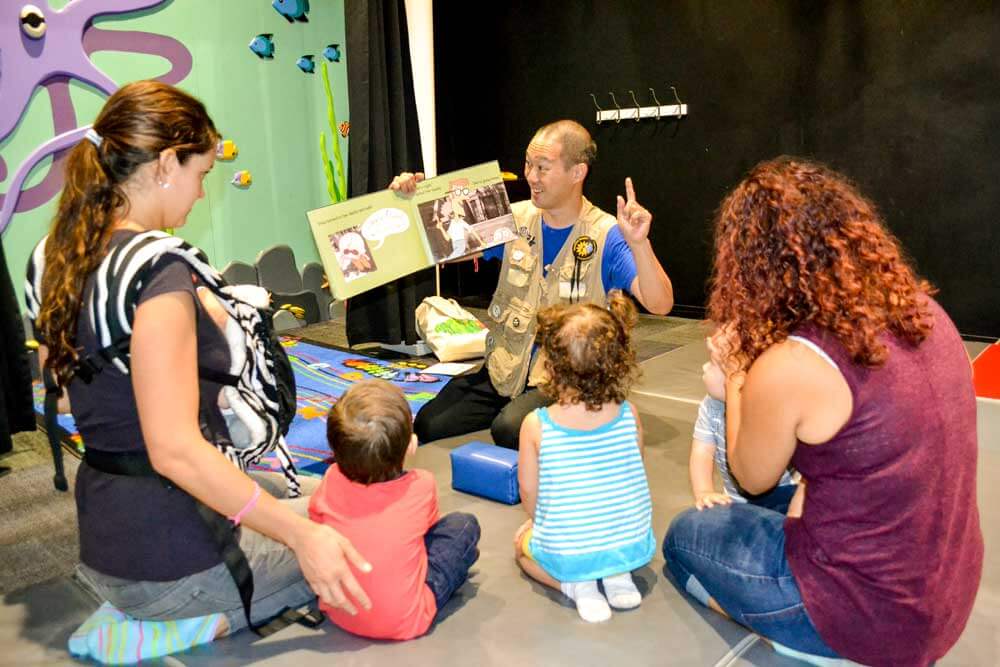 Michael has been volunteering as a storyteller for over a year, and says he loves sharing stories with the enthusiastic preschoolers and their families here at the i.d.e.a. Museum.
Michael holds a Ph.D. in children's literature from ASU and in recent years has been a children's book reviewer for several magazines and scholarly publications. You can catch Michael telling stories several days a week in ArtVille, as part of the museum's daily Artful Tales program.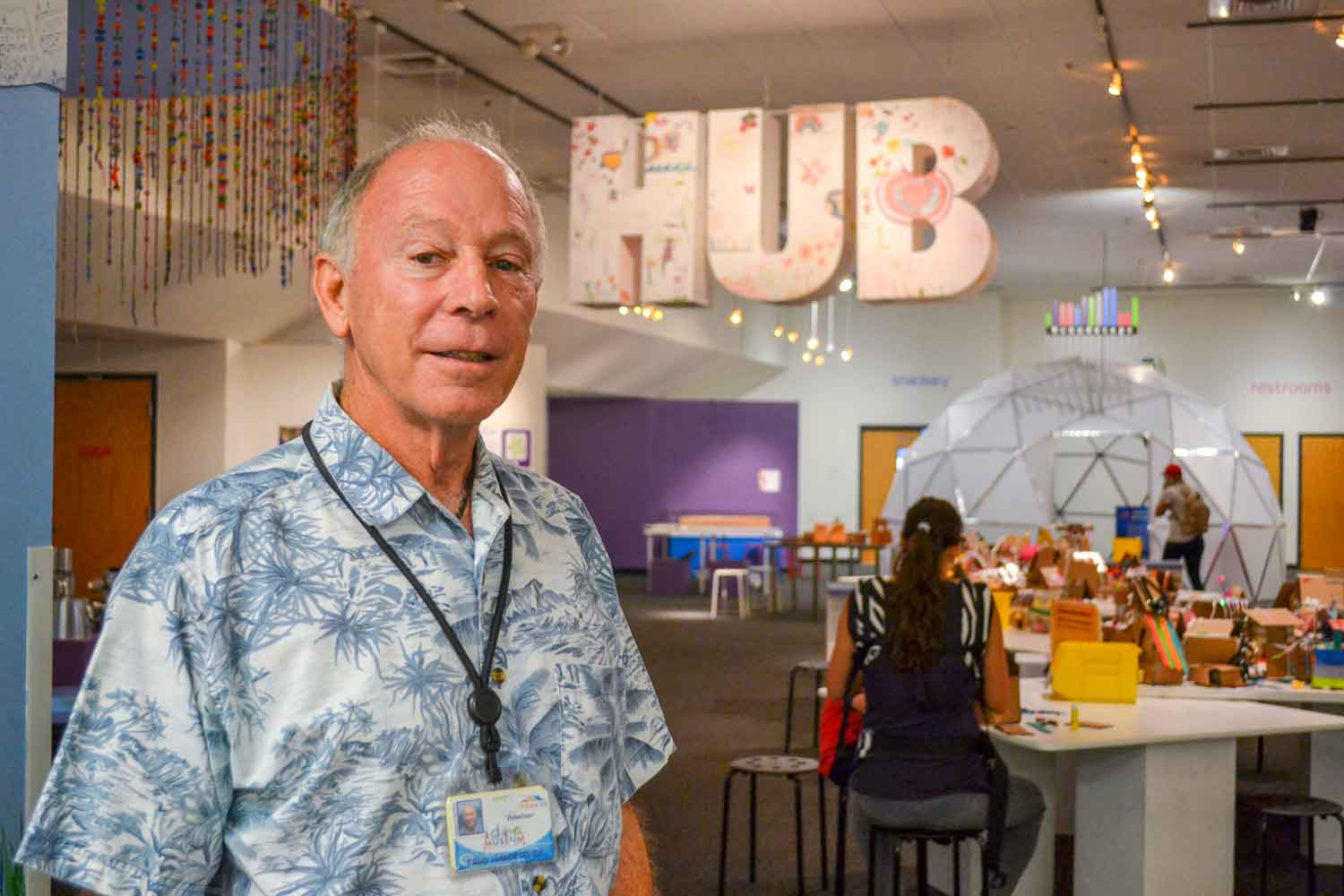 Fred has been volunteering at the museum for eight years, and as a retired engineer, he says he was looking for something fun and meaningful to do with his time.
"I love telling stories, so I mostly do the museum tours for the younger kids. I go home feeling really good because I know I did something worthwhile that influences the future of children. The museum is a terrific place to be."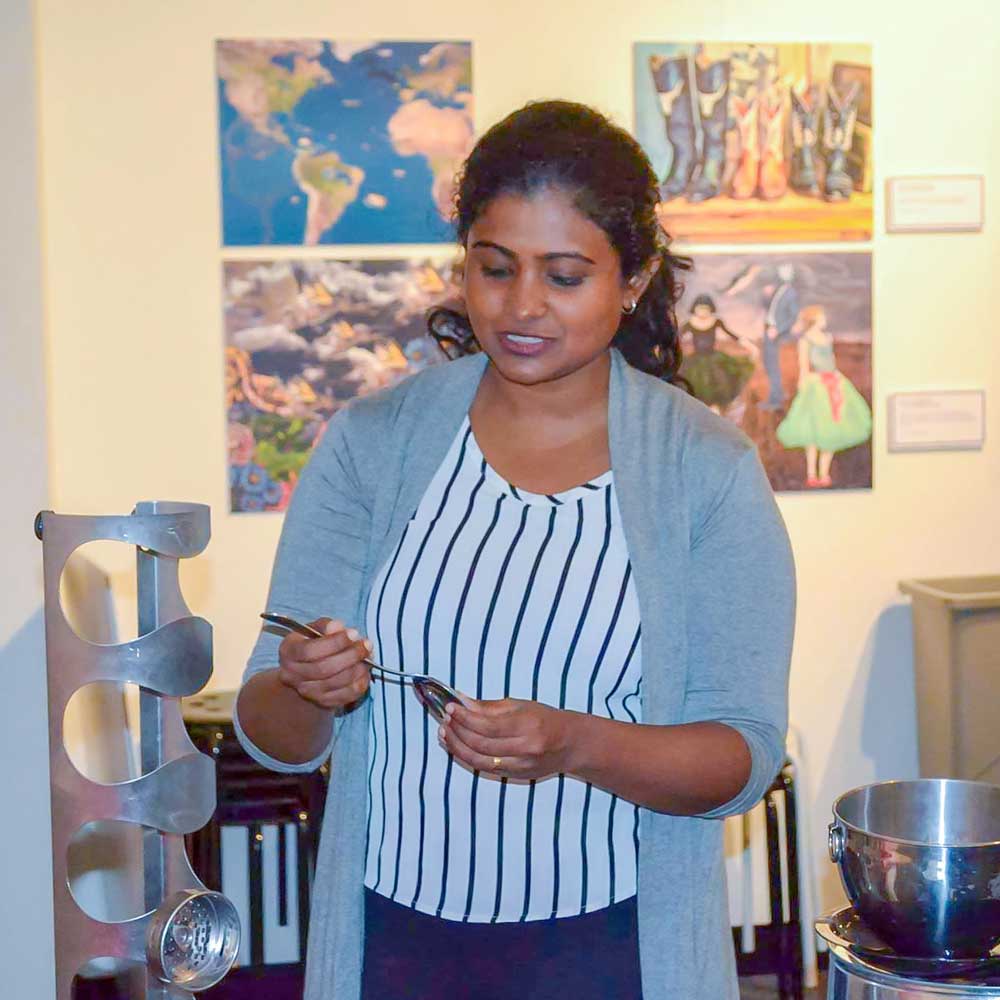 MEET NIPUNI SIYAMBALAPITIYA
Nipuni Siyambalapitiya is a new volunteer here at the museum. A product designer by profession, Nipuni is also a classically trained singer and music teacher and is especially excited about working with museum educators to create new music activities.
"I enjoy volunteering here at the i.d.e.a. Museum because it has all the ingredients I like – community base support and working with children to enhance their creativity."
Address
i.d.e.a. Museum
150 W. Pepper Place
Mesa, AZ 85201
Admission
Admission: $9/person
Free for members and those under age 1
New Hours
As of  Oct. 31, 2020
10 a.m. - 4 p.m.
Thursday - Saturday
12 p.m. - 4 p.m.
Sunday
Closed
Monday - Wednesday and most holidays